The Chesapeake Bay Sentinel Site Cooperative (CBSSC) is a group of ecosystem-based study sites across the Chesapeake Bay that:
Work together to measure the impacts of sea level rise in the Bay.
Work with partners to apply scientific findings produced at sentinel sites to help communities prepare for coastal flooding and other effects of changing climate conditions.
Work in partnership with coastal managers, decision makers, and community liaisons. 
Filmed by Ron Lopez, CBSSC/VCU Rice Rivers Center
Music: Up by Alistair Sung
---
Mission Statement
Integrate science findings from local observations across the Chesapeake Bay region to improve planning and management decisions regarding sea level rise and ecological changes.
---
Why the Chesapeake Bay?
The Chesapeake Bay is the nation's largest estuary
The Chesapeake Bay experiences the highest rate of sea level rise on the Atlantic Coast.
Over 17 million people live within the bounds of the vast Chesapeake watershed.
More than 250 fish and shellfish species use the Bay and tributaries for some portion of their life cycles, including American and hickory shad, river herring, striped bass, eel, weakfish, bluefish, flounder, oysters, and blue crabs.
More than 300 migratory bird species can also be found in the watershed.
The estuary and its network of streams, creeks, and rivers hold tremendous ecological, cultural, economic, historic, and recreational value for the region. With a better understanding of how sea level changes are affecting the Chesapeake, Cooperative partners are helping communities make informed decisions to keep the Bay healthy and sustainable.
The Chesapeake Bay experiences the highest rate of sea level rise on the Atlantic Coast. Subsidence strongly influences local sea level rise here. Long-term data from NOAA tide gauges positioned around the Chesapeake indicate that relative sea levels are rising at 3.4 mm per year, or twice the average global rate of 1.7 mm per year. Over a 30-year period from 1985 to 2015, tide gauges showed rates of sea level rise ranging from 4.8 mm per year in flood-prone Annapolis, Maryland, to 6.3 mm per year at Swell's Point, Virginia, in the subsiding Hampton Roads region.
NOAA tide stations are essential to documenting changes in local sea levels, but in addition, long-term monitoring data from sentinel sites inform costal decision-makers about the longevity and health of vital Chesapeake Bay ecosystems.
---
Member Organizations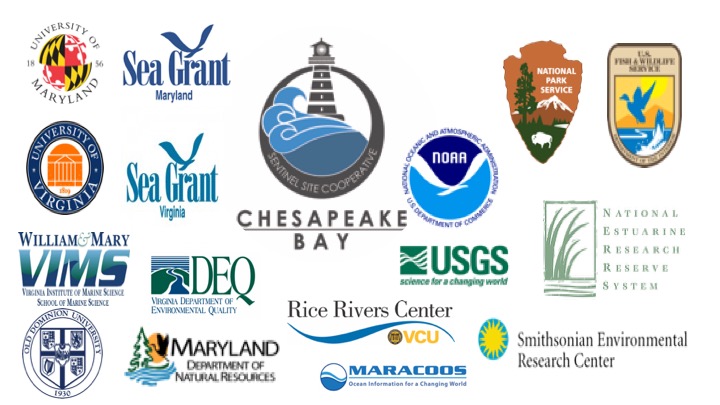 For additional information, please contact:
Taryn Sudol, Coordinator for the Chesapeake Bay Sentinel Site Cooperative
301-405-6378