What is a Sentinel Site?
Sentinel sites are discrete locations across the Bay region where researchers conduct intensive studies and sustained observations to detect and understand changes in coastal ecosystems.
The CBSSC Sentinel Sites currently include:
Assateague National Seashore
Blackwater National Wildlife Refuge
Chesapeake Bay National Estuarine Research Reserve –Maryland
Chesapeake Bay National Estuarine Research Reserve –Virginia
Paul S Sarbanes Ecosystem Restoration Project at Poplar Island
Smithsonian Environmental Research Center
Virginia Coast Reserve Long Term Ecological Research
Virginia Commonwealth University Rice Rivers Center
Click on each site to learn more.
---
Chesapeake Bay sentinel sites share a mission to improve planning and management decisions by providing the best possible data derived from local observations. The map below depicts the type and number of monitoring instruments at each sentinel site.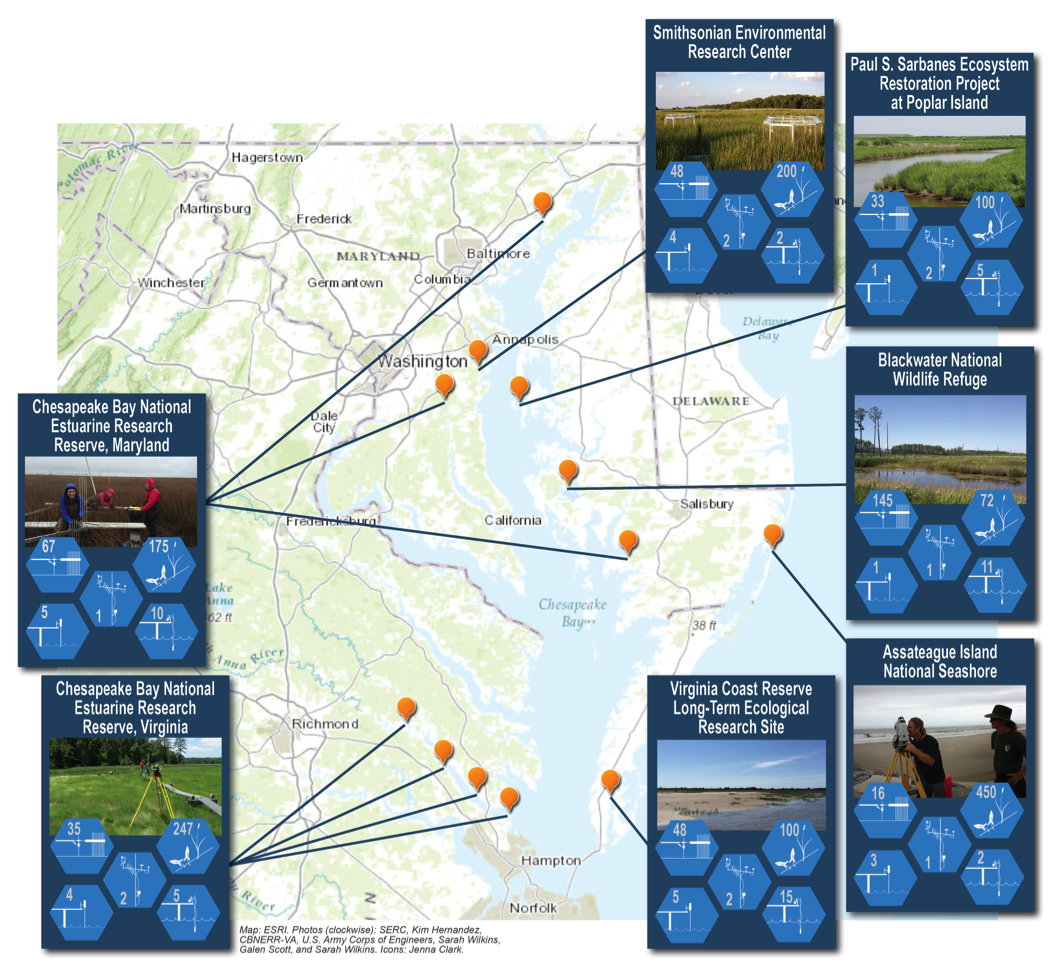 Water Levels: Sea level rise manifests itself differently along the coast, making it important to obtain local water level information. Water-level monitoring stations at each sentinel site continually measure the depth of water, providing a long-term dataset for scientists to use.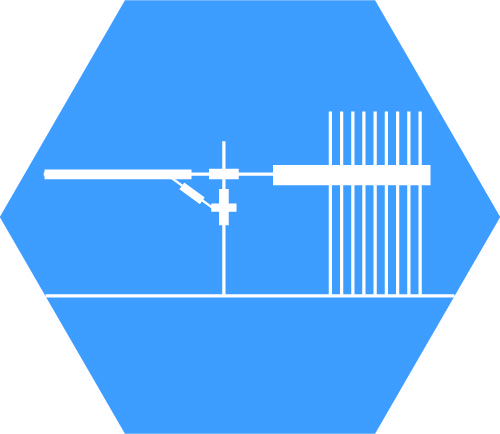 Surface Elevation Tables: Surface elevation tables (SETs) are mechanical devices permanently installed in wetlands that allow scientists to measure small changes in surface elevation precisely and accurately. This tool allows scientists to better understand how coastal marshes respond to sea level rise. SETs are commonly used with marker horizons –squares of feldspar clay applied to the surface of the marsh –to track changes in accretion (the accumulations of sediments on the marsh surface over time).
Vegetation Sampling: Scientists measure plant traits such as height, percent cover, stem density, and biomass within sampling plots to understand how wetland vegetation responds to changing sea levels.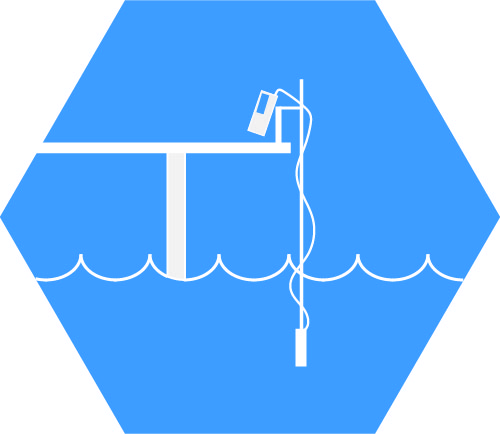 Water Quality: Water quality is a major driver of ecosystem change. At water-monitoring stations, researchers and managers monitor parameters such as temperature, total suspended solids, dissolved oxygen, pH, conductivity, chlorophyll, and nitrogen.


Meteorological Data: Real-time weather stations at each sentinel site measure temperature, precipitation, wind speed, wind direction, relative humidity, and barometric pressure. This vital information helps scientists and managers to understand estuarine circulation, plant productivity, and storm frequency and intensity.
---
In 2017 the CBSSC developed a comprehensive inventory on sentinel site data collection and coastal infrastructure across the sites. Recognizing the wealth of data that exists among the sites, there is great potential to harness the collaborative nature of the Cooperative to advance science syntheses. This inventory also identified where gaps in observational coverage exist among sites.
In the fall of 2021 the Surface Elevation Table Working Group created a conceptual model to describe the environmental variables that influence accretion rates in tidal wetlands. See the model and the data availability for these variables in our report.